JANUARY
.

FEBRUARY
02/11-12/2023, Sunday, 1:30PM - 4:30PM
118th Norge Annual Winter Ski Jump Tournament
Saturday, February 11 and Sunday, February 12
Noon – 4:00PM
Gates Open At 11:00AM
---
MARCH
03/06/2023, Sunday, 1:30PM - 4:30PM

SKJOLD LODGE PRESENTS THE STOUGHTON NORWEGIAN DANCERS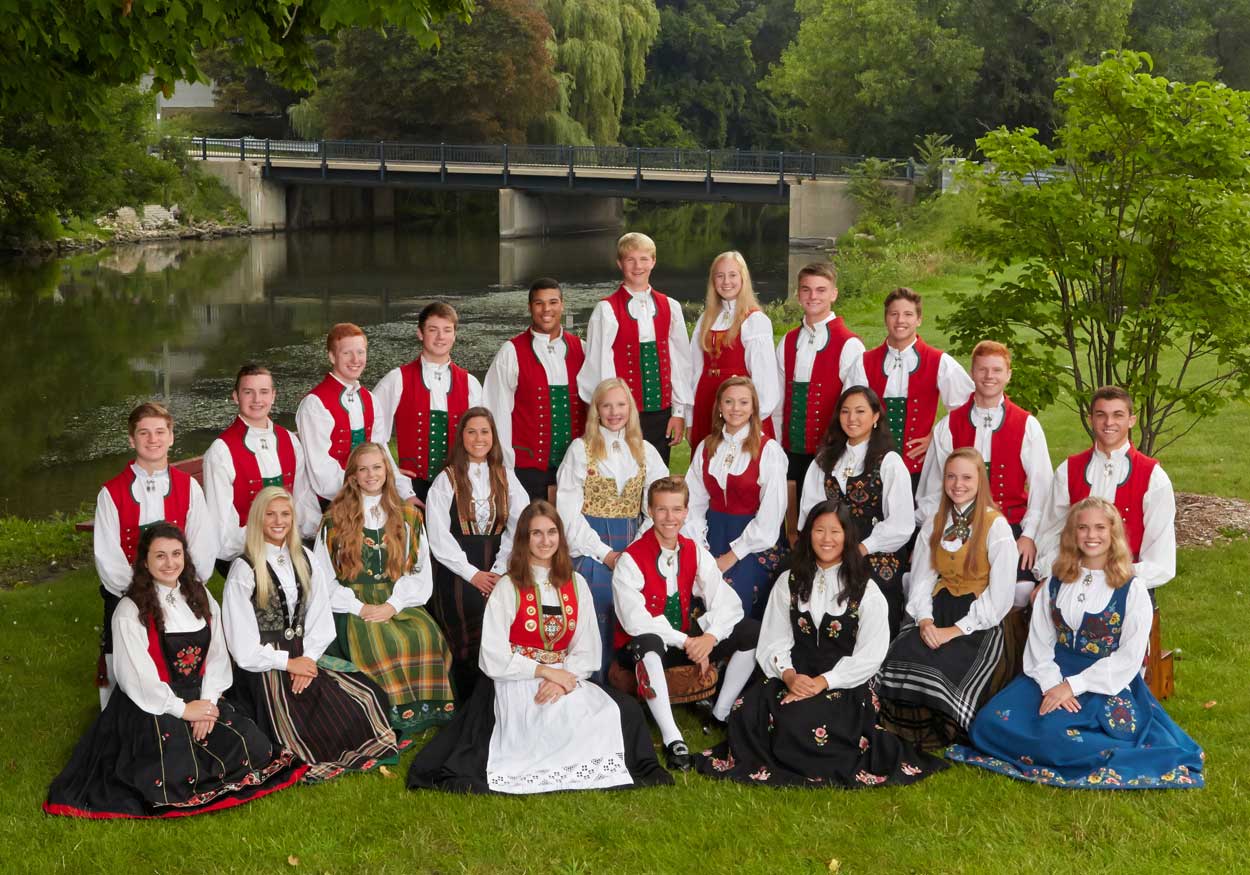 Please join us for this special day to enjoy a performance of the Stoughton Norwegian Dancers.
Bring your family, bring your friends. Tell everyone you know about this performance!


---

03/26/2023, Sunday, 11:00AM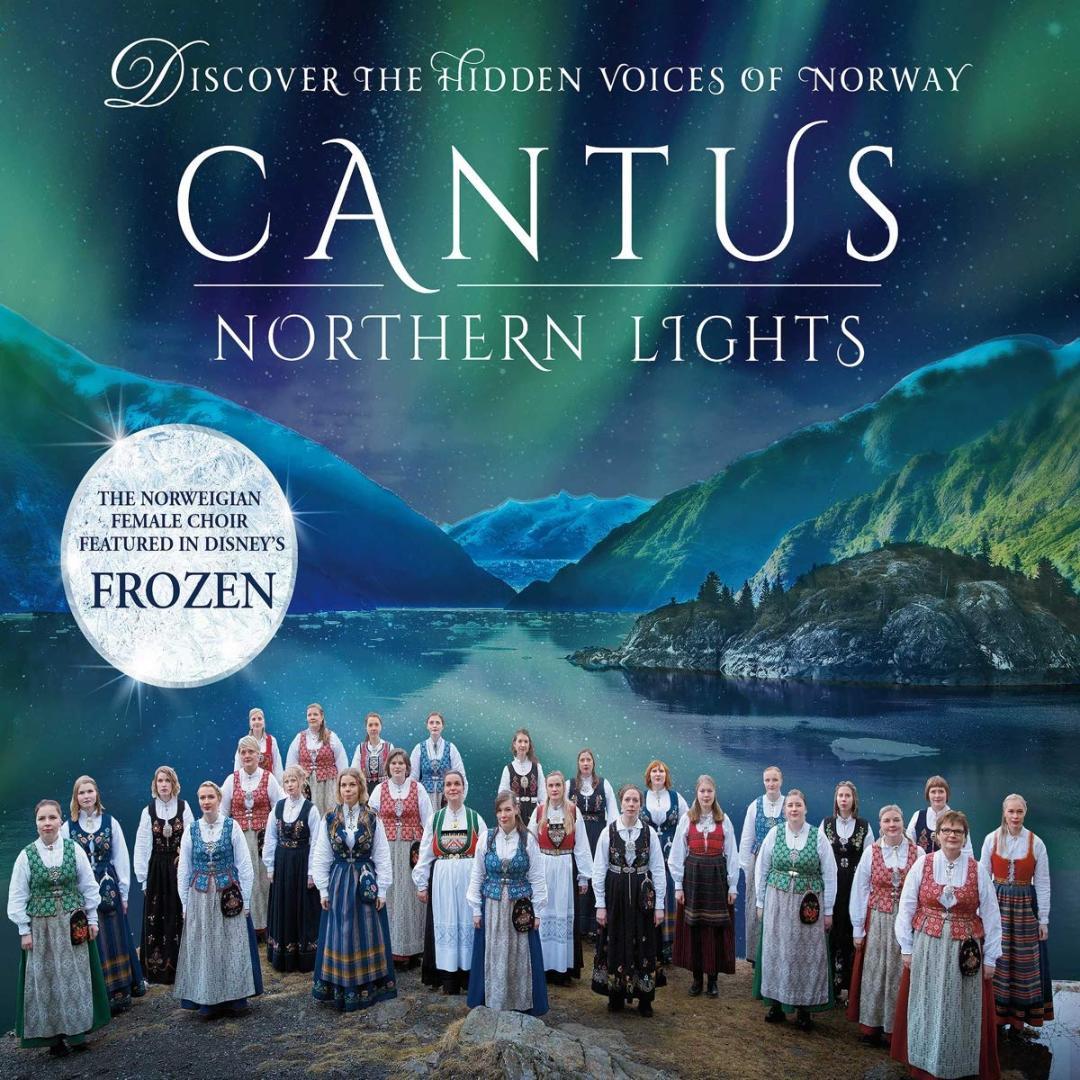 AWARD WINNING WOMEN'S NORWEGIAN CHOIR PERFORMS!
YOU'VE PROBABLY HEARD THEM SING AND DON'T KNOW IT. THEIR SINGING IS IN THE DISNEY FROZEN MOVIES.
CANTUS - TRONDHEIM NORWAY WOMEN'S CHOIR SPECIAL MUSICAL PERFORMANCE AT THE 11 AM WORSHIP SERVICE
MINNEKIRKEN - Norwegian Lutheran Memorial Church, 2608 N. Kedzie Ave, Chicago, Illinois

---
03/26/2023, Sunday, 1:00PM
MINNEKIRKEN - Norwegian Lutheran Memorial Church
2608 N. Kedzie Ave, Chicago, Illinois
Please join us for our free concert at 1 p.m. on March 26, 2023 to hear the amazing duo Mai Sugimoto and Mabel Kwanper perform.

---
APRIL
.
---
MAY
.

---
JUNE
.
---

Back to top of page
JULY
07/23/2023 Sunday 11:00 AM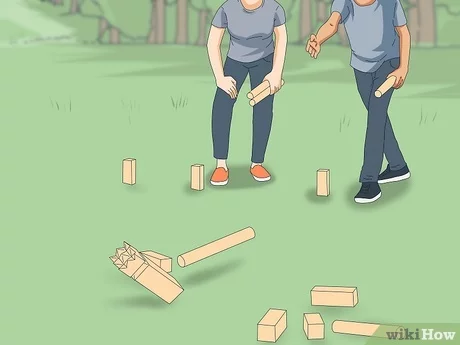 KUBB TOURNAMENT
VASA PARK
35 W 217 Route 31
South Elgin, IL

Join us at Vasa Park for the first annual Kubb Tournament!
We'll have a catered picnic lunch, alcoholic and non-alcoholic beverages
available for purchase and a beautiful setting along the Fox River for an
afternoon of fun! Never played Kubb before, but interested? No previous
experience is necessary, just a willingness to learn a fun game!

Gates open 11:00 a.m.
Lunch 11:30 – 12:30
Tournament starts 12:30 p.m.

Kubb Tournament entry fee:
$60/team of 3-6 players
Catered lunch of hamburgers, hot dogs, boneless chicken breasts,
various side salads & chips
Vasa Park members (also get 2 drink coupons) - $15/person
Non-members - $20/person
Register online at Vasaparkil.com or by calling Tom Cleveland at 815.739.3100
<Click/Tap Here> to view to Kubb Tournament Brochure.

The image above came from Wikihow. At Wikihow there is a good explanation of how to play the game complete with more pictures. Go to https://www.wikihow.com/Play-Kubb

---
AUGUST
.
---
SEPTEMBER
09/10/2023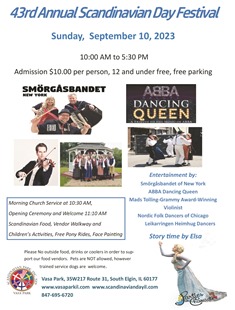 43rd Annual Scandinavian Day Festival
Sunday, September 10, 2023
10:00 AM to 5:30 PM
Morning Church Service at 10:00 AM,
Opening Ceremony and Welcome 11:10 AM
Vasa Park, 35W217 Route 31, South Elgin, IL 60177 www.vasaparkil.com www.scandinaviandayil.com 847-695-6720
<Click/Tap> on the image for a larger version of the flyer.
Entertainment by:

Smörgåsbandet of New York
ABBA Dancing Queen
Mads Tolling-Grammy Award-Winning Violinist
Nordic Folk Dancers of Chicago
Leikarringen Heimhug Dancers
Story time by Elsa
---
OCTOBER
10/14/2023

Saturday
1:00pm to 5:00pm
VASA PARK ANNUAL FISH BOIL
35W217 Route 31
South Elgin, Illinois
Rain or Shine Event
Limited to the first 130 people
The "boil" takes place about 2PM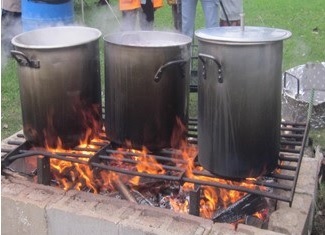 Click/Tap <HERE>on the image for the on-line registration form.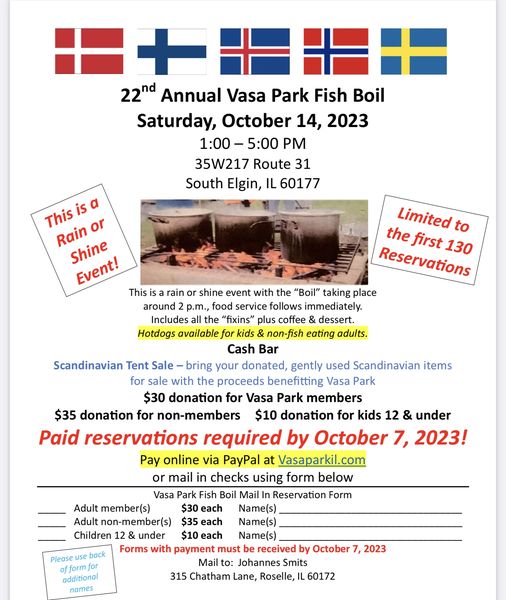 Click/Tap on the image to the left for a larger version of the fish boil flyer
Details and donation amounts are on the flyer.




---
NOVEMBER
.
---
DECEMBER
.
---

Back to top of page