Christmas Around the World Program
Each year the Norwegian National League participates; decorating a Norwegian Christmas tree in November and presenting a program of Norwegian music and dance in December. Our 2018 program is December 1, 2018.

Museum of Science and Industry
5700 S Lake Shore Drive
Chicago, IL 60637


This annual tradition began in 1942 with a single tree,
newly decorated every day for 12 days to represent the countries fighting alongside America during World War II.

The tree was a wartime tribute to the Allies, but it also symbolized hope during the uncertain times. By bringing together so many ethnic holiday customs, the display was a reminder that there is more to join us than divide us. Since its first year, the display has certainly grown but this spirit remains unchanged. The 2016 event opens on November 17.

November 7, 2018
WE DECORATE OUR TREE
JOIN US AS WE DECORATE OUR NORWEGIAN CHRISTMAS TREE!
Each ornament is tied on so it does take a bit of time. Our tree features a beautiful assortment of rosemaled pieces received some years ago from lodges across the country, cheerful nisse, and of course flags.

Thomas and Lynn Sove Maxson are in charge of the decorating. Volunteers should contact them at: sovmax@wowway.com

December 1, 2018, Saturday - 1:30 PM
WE PRESENT OUR PROGRAM
In December, the League presents a Norwegian Christmas program as part of the museum's Christmas Around the World event with a choir, folk dancing, singing carols, and walking around the tree as we sing.

The program is at the Museum of Science and Industry, Chicago, IL
MAP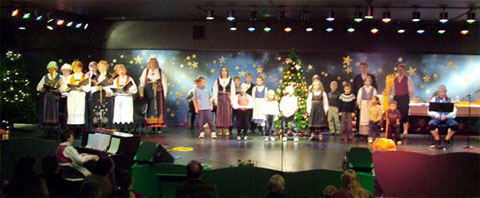 < home < annual events < Christmas Around the World